Remember Remember The 5th of November
Primary tabs
Submitted by Michael Israel on Tue, 2016-11-15 17:18
Members of Anonymous show support to Standing Rock Pipeline protestors. (Photo: Michael Israel)
When Anonymous hears about people protesting the proposed pipeline at Standing Rock during their annual Million Mask March held every November 5th in Rochester, NY to honor Guy Fawkes, Anonymous decides to show solidarity and support to the group protesting the pipeline. (Video: Michael Israel)
Every November 5th in an event called the Million Mask March, members of Anonymous from all over the world put on their Guy Fawkes mask to show support for the rights of the average person. Anonymous originated on 4Chan as a trolling group but during the WikiLeaks controversy in 2010, grew into a group that supports various activist causes. Many members of the on-line community in-fight amongst themselves about the role that Anonymous should play in political issues. Some members of Anonymous are hackers who support activists; they are called hacktivists. Other members of Anonymous are disillusioned people who want to fight corruption and ensure equality to all people.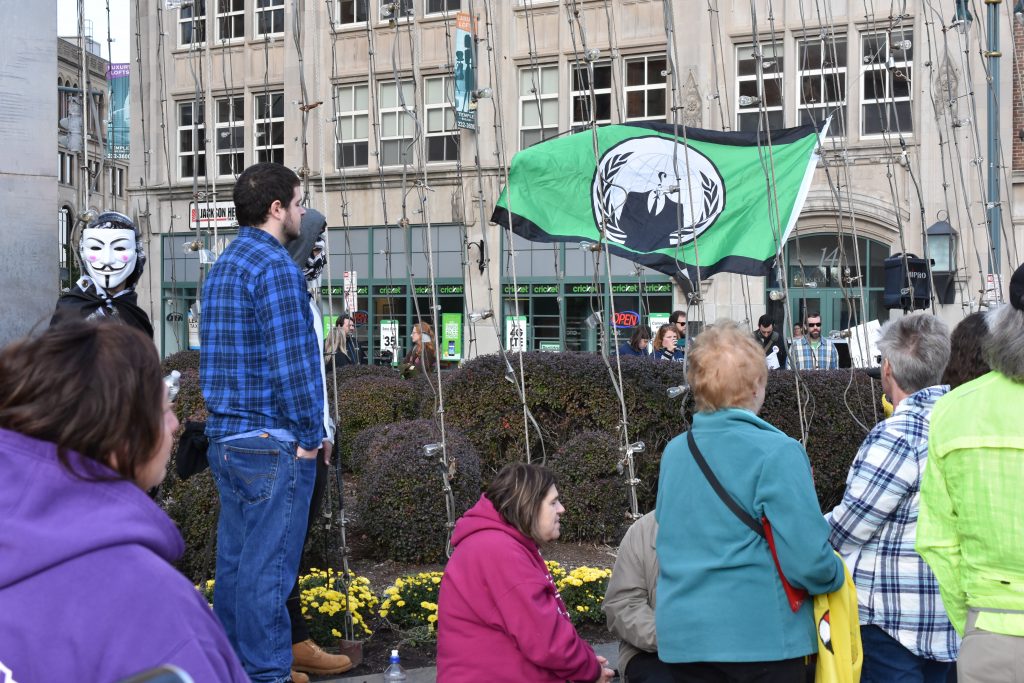 An Anonymous Flag is flown at a Standing Rock Pipeline protest in Rochester, NY to show support to the protesters. (Photo: Michael Israel)
Keeping information free and open to all people is one of the primary goals of Anonymous. They will use their hacking skills to ensure that governments are serving the interest of corporate special interest groups over the rights people to have free access to information are exposed. Many Anons, people who proclaim to be part of Anonymous, hack into the servers of various world governments and post damaging documents to WikiLeaks so that citizens can track what their government is doing. Other Anons offer IT support to protesters who may not be computer savvy. Anonymous hosts the Million Mask March every November 5th in various cities throughout the world. Anons at this year's Million Mask March hope that more people will show up to next years march.
Below: A government document that a member of Anonymous somehow obtained in 2010. This document just serves as an example of the types of documents that members of Anonymous have obtained and posted to WikiLeaks.
http://www.psychedelifoodforthought.org/wp-content/uploads/2016/11/ACTA_consolidatedtext_EUrestricted130710.pdf